The following is an ​overview of ATA e-Business Program projects along with their status and links to their respective working groups/project teams.​
Aircraft Transfer Records Project
Electronic Aircraft Records facilitates and lowers the cost of transferring an aircraft, for example at the end of a lease. The Aircraft Transfer Records (ATR) working group has developed industry standard XML formats for a number of "reports" (information sets) which are typically provided including AD Status, Repair / Damage Status, Last Done Next Due Maintenance Status, Installed/Tracked Parts Status, SB / Mod status as well as Aircraft / Engine Status. The working group has also developed an electronic Crate which allows metadata to be added to other document types such as PDFs ranging from certificates to "Dirty Fingerprint" (records of maintenance). The benefits of standardization of these records include higher accuracy due to less re-keying, lower cost and more rapid record review and easier transfer into the recipient's system.  Spec 2500, Version 2022.1 is planned for the middle of 2022. The group is currently reviewing and incorporating findings from implementation activities as well as developing an XML version of Event History, and will shortly thereafter finalize the LLP History and Flight Summary files for version 2022.2
Visit the ATR Working Group​ to learn more or to join the effort.
Automated Identification and Data Capture (AIDC)
The AIDC group approved updates Spec 2000 Chapter 9 with minor changes to the RFID specification and is finalizing changes to bar-coding and permanent part marking to better align with RFID. Additional work is being done to develop an RFID shipping / receiving "label".
 Visit the Automated Identification & Data Capture Working Group to learn more or to join the effort.
Configuration Management
The Configuration Management Working Group (CMWG) is responsible for the global scope of Configuration Management concepts across all ATA e-Business Program specifications. This includes an overall harmonized Configuration Management data model and coordination with other working groups on pertinent topics.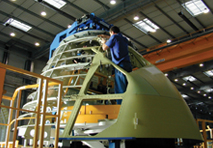 CMWG accomplishments and ongoing projects include:
CMWG published revision 2021.1 of ATA Spec 2400. This is a major revision which adds a new Chapter and other

 

guidance for exchange of Allowable Configuration data in terms of Modifications, i.e., which mods can be performed on an aircraft and under which conditions.

CMWG continues to work with other ATA Working Groups to develop data exchange standards pertaining to multiple actual configuration use cases, such as:

A rotable component "passport"
A part (or modification) configuration validation report
Reliability-based information for Allowable Configuration in Parts
Visit the Configuration Management Working Group​ to learn more or to join the effort.
Electric Air Vehicle Standard Numbering System

The ATA Technical Data Working Group (TDWG) Electric Air Vehicle Sub-Team (EAVST) was launched in November 2022 to evaluate the ATA Standard Numbering System (SNS) published in ATA iSpec 2200 and the S1000D Air Vehicles, Engines, and Equipment SNS for potential changes to support the unique requirements of electrically powered aircraft in the Civil Aviation industry.
The EAVST has identified the following aspects for evaluation:
Modify the existing ATA and S1000D SNS's be revised or develop new EAV-specific SNS's
A unified flight control / propulsion SNS system
A new SNS system for electrical energy storage systems
New SNS systems for Electric Propulsion Units (EPUs) and EPU Actuation
Revision to System 54, Nacelles/pylons
 Visit the Technical Data Working Group​​ to learn more or join the effort​.​​​​​​​
Information Security Standards
The ATA Digital Security Working Group (DSWG)  published the 2020.1 revision of Spec 42, Aviation Industry Standards for Digital Information Security. This revision includes​​:​
Aligned Spec 42 with

 

recent changes to NIST 800-63-3 "Digital Identity Guidelines".

Clarified that the preferred terminology for "non-repudiation" is now "content commitment"
As Spec 42 is a mature standard, DSWG continues to monitor advancements in industry requirements and techology to introduce new Change Requests as needed.
Visit the Digital Security Work​ing Group​ to learn more or join the effort.
Information Standards for Flight Operations Data​
The ATA Flight Operations Working Group (FOWG) is working on revision 2022.1 of Spec 2300, Information Standards for Flight Operations, to be published in the fall this year. Topics to be included in this revision include:
Policy Repository for Compliance Policy Standard Reporting
Common Repository for reusable data types such as Phase of Flight, Tech Labels, Units of Measure, and Publishing Targets
General Operations to cover topics included in operators' Flight Operations Manuals
Revision History
Updates to XML schemas, ATA Common Support Data Dictionary, and data samples
Maintenance Execution Standards
The Maintenance Execution Working Group (MEWG), is developing a set of specifications for submittal of work orders, work packages, job cards, tasks to a maintenance organization and return back of maintenance completion records, findings, deferrals, etc. Spec 2000 Chapter 18 Work Package which is envisioned to be used by Operators and Maintenance Providers (line maintenance, heavy maintenance, etc.) was published in early 2018. The group is currently working on version 2.0 which is focused on transactional exchange of Work Package additions, removals, changes, findings and approvals during the maintenance visit. The MEWG is also responsible for maintenance of the Electronic Technical Logbook specification which is published in Spec 2000 Chapter 17. Updates to both of these specifications are planned for the mid 2022.
Visit the Maintenance Execution Working Group to learn more or to join the effort.
Maintenance Execution – Task Data Standard
The Maintenance Execution Working Group Task Sub-team is developing a specification for a fully digital executable maintenance task, allowing various manufacturer tasks, operator tasks to be developed with various requirements to be provided to Maintenance Providers from Operator, and subsequently be used to collect information such as measurements, findings and signatures and returned from the Maintenance Provider to Operator. An additional goal is to allow these electronic tasks to be acceptable to regulators and lessors as the actual records of maintenance to replace paper/PDF.
Visit the Maintenance Execution Working Group to learn more or to join the effort.
Provisioning Data
The Provisioning Working Group (PWG) has been inactive, but there has been recent interest in developing new XML based provisioning standards, to better exchange data for establishing planned inventory and related information, particularly on new aircraft types.
Please contact the ATA e-Business Program​ if you are interested in participating in this effort.
Regulatory Documentation
The Regulatory Documentation Working Group (RDWG) monitors FAA Form 8130-3 and EASA Form 1 to ensure Spec 2000 Chapter 16 stays current.
Visit the RDWG to learn more or to join the effort.
Reliability Data
The Reliability Working Group (RWG) has ongoing meetings to review reliability data exchange and metrics, and maintain Spec 2000 Chapter 11 and 13.2. This specification includes exchange of a wide variety of operational and maintenance data about aircraft, engines and components. Current focus is on harmonizing removal codes and findings codes, increased support for health management systems, and development of a detailed engine shop findings data set. The 2022.1 version is expected to update the metrics in 13.2 as well as make minor changes to several of the records and release the Engine Shop Findings record.
Visit the Reliability Working Group to learn more or to join the effort.
Spec 2000 Procurement
The Spec 2000 Procurement Working group is in the process of developing revisions to Spec 2000 Procurement Gen 2. Focus is on findings based on recent implementation activity, as well as additional work on enhanced invoicing. The group expects to meet in July 2022 to review these activities.
Visit the Procurement Working Group ​to learn more or to join the effort.
Technical Data Standards (ATA iSpec 2200, ATA Spec 1000BR, and S1000D)
The ATA Technical Data Working Group (TDWG) published revision 2021.2 of Spec 1000BR_4.2, Civil Aviation Business Rules for S1000D issue 4.2. This was a major revision adding a new chapter with guidance for using S1000D issue 4.2 for Scheduled Maintenance Data.
TDWG is currently finalizing the 2022.1revisions of Spec 1000BR_4.1, Civil Aviation Business Rules for S1000D issue 4.1. and Spec 1000BR_4.2, to be published in the fall this year. These revisions provide a number of changes to continue to refine the quality and usabiltiy of the specs, including:
Updated several General Civil Aviation and Component Maintenance Publication (CMP) business rules (Sections 2-1 and 3-1)

Updated the General Civil Aviation Business and CMP Rules Exchange (BREX) data modules (Sections 2-4 and 3-4)

Updated the CMP Layout Rules and Examples (Section 3-2)
TDWG continues working with the S1000D Steering Committee and various working groups on S1000D topics and revisions in its role as the S1000D representative body for the international Civil Aviation industry.​
Visit the Technical Data Working Group​​ to learn more or join the effort​.​​​​​​​